Searching for a DISCOUNT? Try RIGHT NOW our LUCKY WHEEL and check your fortune!

---
DESCRIPTION: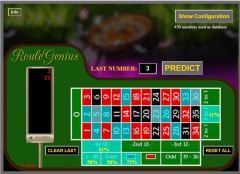 RouleGENIUS is a ROULETTE Software that gives predictions about the next number which is going to come out on your playing roulette.
It's not a usual software as you can find on the web, because it has a totally 2017 innovative algorithm and can detect which spins have low % of winning and avert you to don't bet on them.
It's predictions are based on a list of numbers occurred on a specific roulette – French, European, American, 3D Roulette etc (into software is implemented 100+ lists of numbers as database).
More,the numbers which you insert as "LAST NUMBER" are automatically added to the list of numbers specific for your roulette – in this way the list automatically updates while people are playing on – so you will have the highest % of winning. For more details: Video tutorial
In conclusion the software percentage of winning is 94.73%, as a result you will get NO MORE THAN 4 consecutive losing spins at roulette. Why it is an advantage? Because doubling your bet you are going to have a POSITIVE Balance every 5 spins! Amazing isn't it?
Would you like to try it now? Video tutorial: How DOWNLOAD 3 FREE TRIALS
For more details about what options the software gives you – see the configuration above.
---
---
CONFIGURATION:

1. Set NAME OF ROULETTE (like LIVE, FRENCH, EUROPEAN etc)
2. Choose your type of roulette : single 0 or double 00 (as default it's single 0)
3. Choose your ROULETTE Platform (like Playtech, NetENT, Microgaming, IGT, Rival etc)
4. Choose what types of bets you want to see during predictions (as default all types are selected: single numbers, columns, dozens etc) 5. Indicate how many numbers want to bet on? EXACTLY option set a fixed amount, the MINIMUM value will show not less than the value you set, the MAXIMUM will show no more than the number you set. ALL 3 options are OPTIONALLY so leave them IN BLANK for higher % of winning.
Video tutorials: HOW CONFIGURATE RouleGENIUS SOFTWARE?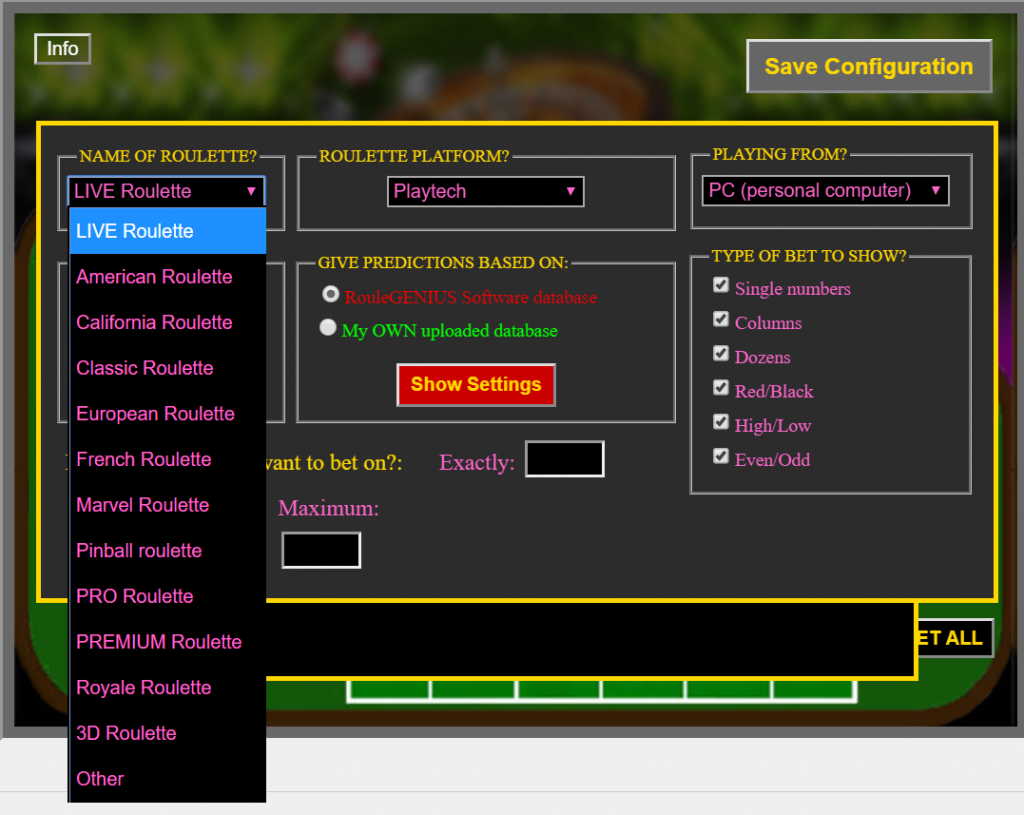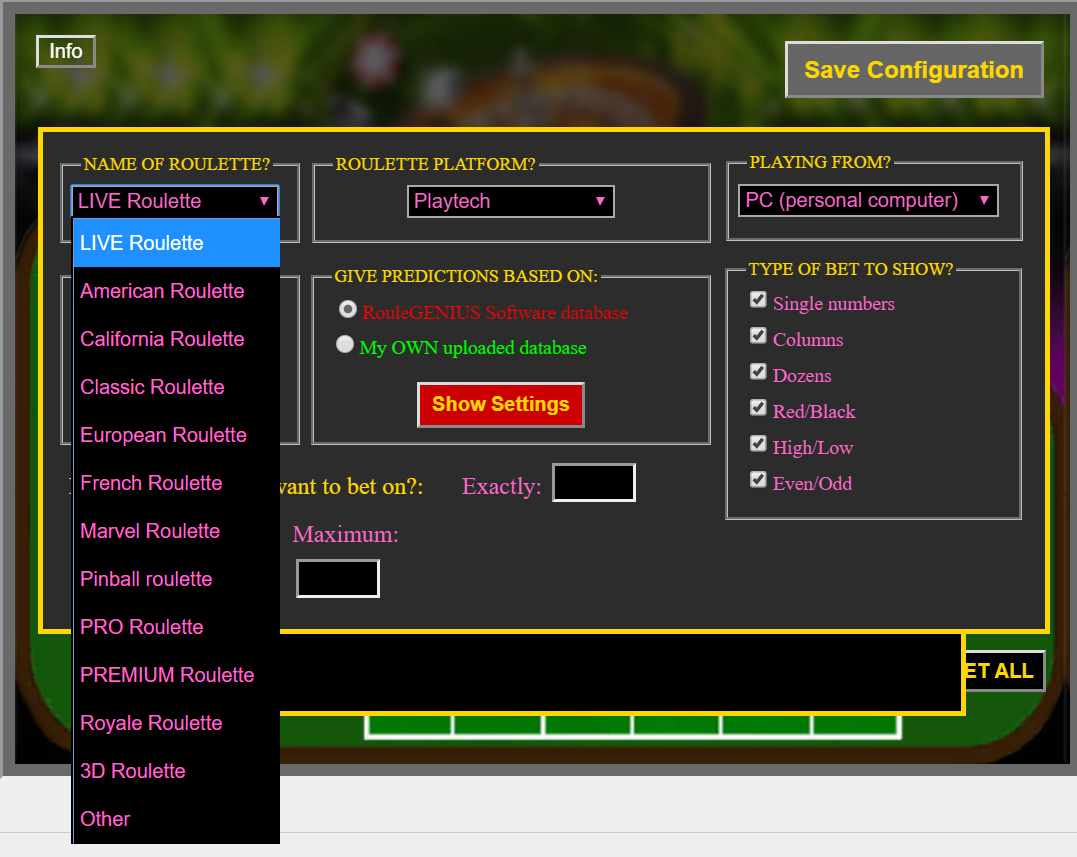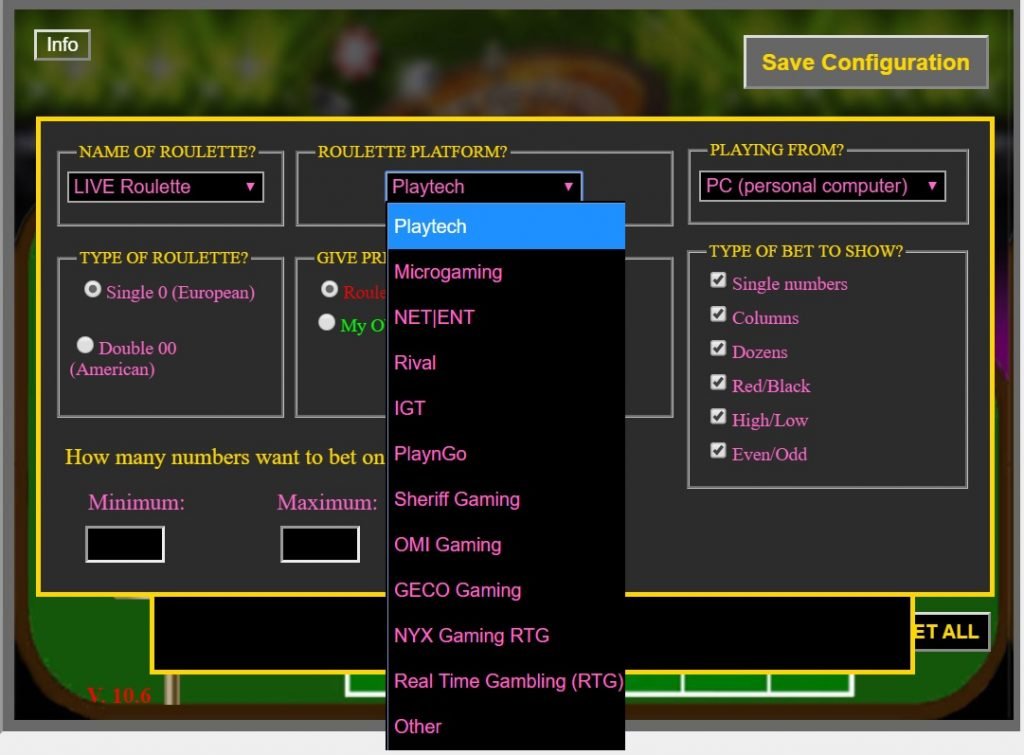 ---
---
PROCEDURE:

STEP 1: Click SPIN Button on your playing roulette without betting. STEP 2: Write as LAST NUMBER on our RouleGENIUS Program the number which come out STEP 3: Click PREDICT Button. If you see bets – bet on them, if you see "don't bet message" – don't bet and repeat STEP 1.
Repeat this procedure (1, 2, 3,) for about 10 minutes then leave the roulette and take a pause for at least 1 hour. After that start a new roulette session and start from STEP 1.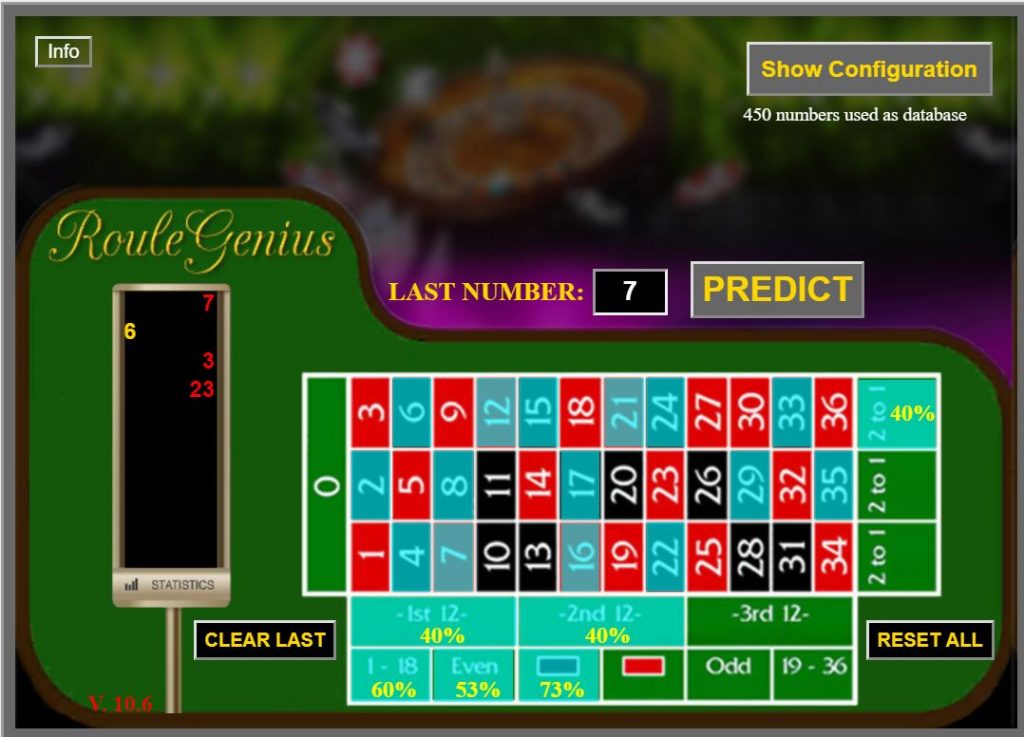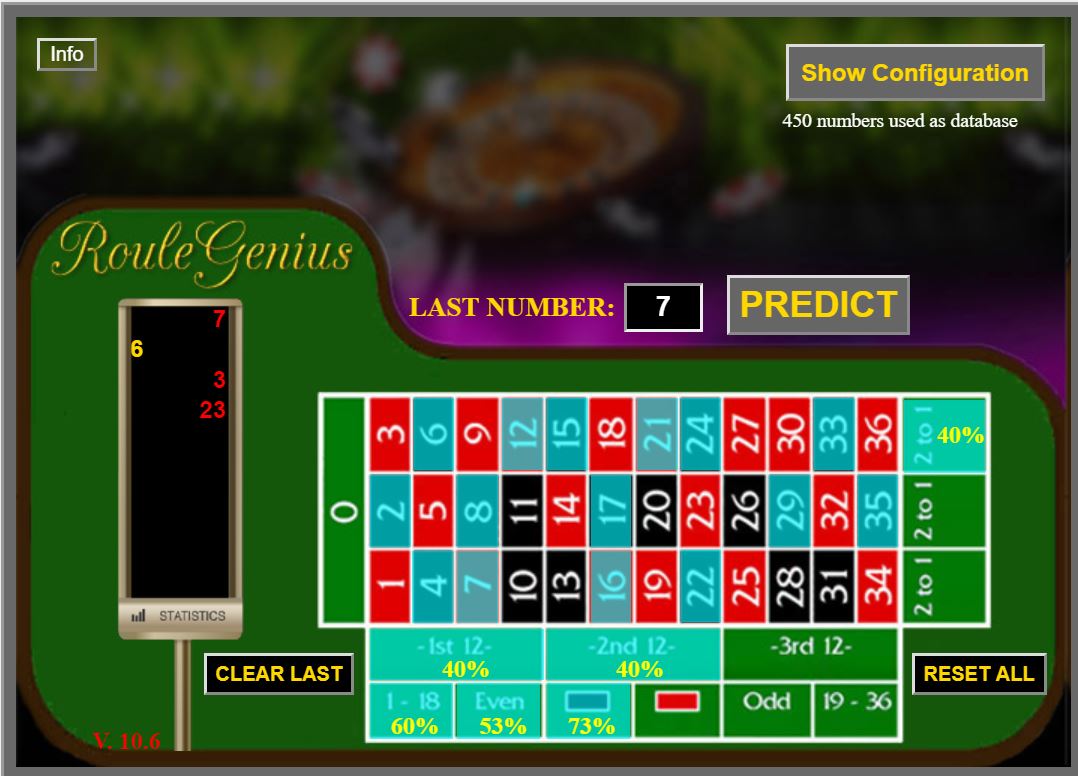 ---
RouleGENIUS for Windows RouleGENIUS for ANDROID Buy RouleGENIUS NOW!
N.B: FREE Trial is available only for Windows system. To get it click on "RouleGENIUS for Windows" button above.
---
ROULEGENIUS – Now it's your time to win!